ElectriStor™ VRFB
Our business model for this offer provides technology licensing & engineering services that simplify the rapid adoption of the ElectriStor™ Gen1 VRFB platform and promotes local manufactured content to achieve our Customer's economic development goals.
ElectriStor™ Gen1 is the next generation of Vanadium Redox Flow Battery (VRFB), that enables a significant 50% cost savings over conventional VRFB platforms. ElectriStor™ Gen1 is the missing link that can overcome the existing cost barrier for VRFB, thereby enabling full commercialization for large scalable energy storage applications that can address climate change.  We build upon the proven vanadium redox flow battery chemistry and have made multiple key interlocking improvements that taken together dramatically decrease material use and hence lower cost and increase performance.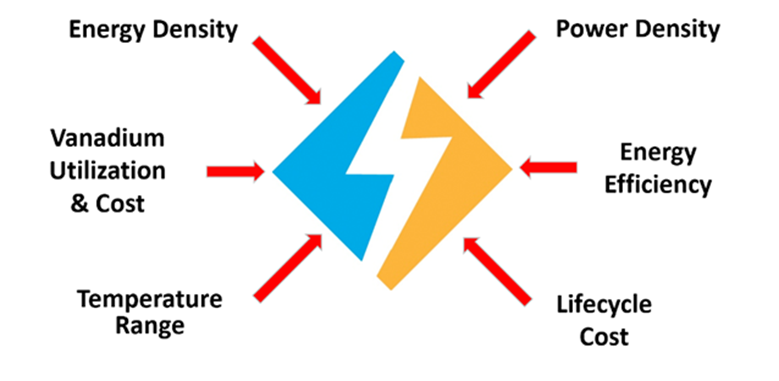 ElectriStor™ Gen1 technology is ideally suited for integrating renewables such as PV and wind to the grid. Unlike most batteries, ElectriStor™ Gen1 does not degrade when fully charged and discharged and is suited to Long Duration Energy Storage (LDES) requirements. This means it can handle the demanding charge/discharge rates, high temperatures, and diurnal cycles that characterize these applications. In addition, ElectriStor™ Gen1 power and energy are independently scalable, allowing it to be optimized to your energy storage requirements, and, as the electrolyte does not degrade, it is fully recyclable and retains virtually full residual value over the system's 20 plus year lifetime.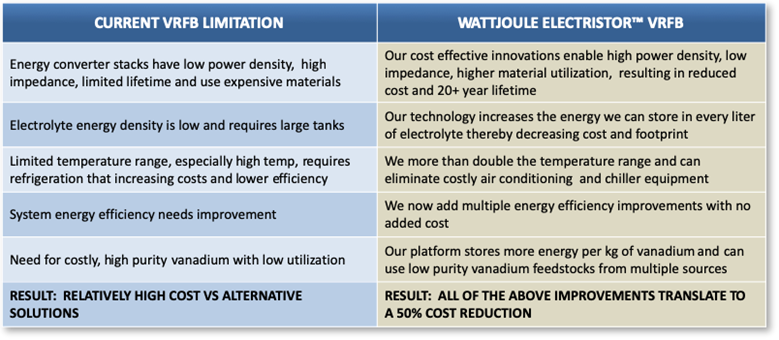 WattJoule's next generation ElectriStor™ Gen1 platform enables a 50% cost reduction over today's VRFB platforms, and is a major breakthrough in the field of flow batteries where we dramatically lower cost by overcoming the current limitations of today's VRFB. We address sustainable scalability holistically, by enabling low-cost vanadium sourcing, high performance core components, meaning less material to transport, process and deploy; and the ability to operate in harsh temperature environments, all of which enables a significant cost reduction.
In addition to our open innovation model, WattJoule has also developed its own scalable, cost effective VRFB electrolyte manufacturing process that mixes, balances and provides critical ultra-purification. Our electrolyte processing and stack technology can support both legacy sulfate and future chloride-based vanadium electrolytes.
ElectriStor™ Gen1 is deployable today and has already been licensed non-exclusively.  There is no new invention required for its adoption and manufacturing scale-up.  Licenses are available to those seeking to rapidly adopt this platform and leverage all the cost and performance benefits this platform has to offer.